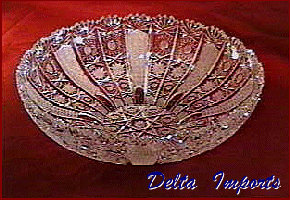 Delta Imports is a crystal glassware import company specializing in fine crystal glass ornaments from Europe. All of our crystal glass merchandise is made from Bohemian hand cut lead crystals meticulously hand crafted into beautiful crystal glassware for your delicate taste.
Choose from our variety of Bohemian Crystal Glassware,
Czech crystal vases, glass vases, wine decanters,
wine glasses, crystal champagne glasses, gifts,
crystal vases, glass candle holders, art glass,
crystal bowls, ornamental ashtrays,
bohemian art glass, decanters,
glass plates, and crystal gifts.
Bohemian Crystal has been the pride of the glass industry in central europe since the early 1800's. The unique design in crystal artwork and superior product created from this magnificent glass have made it very popular in Europe, Asia, Australia, and now America. Though the traditional glass designs have been maintained throughout history, new and modern glass designs have been added to the crystal to rejuvenate its notoriety. The crystal glassware contains 24% PbO (the lead content gives the glass a crystalline sparkle). The hand cut crystal is artfully designed on vases, wine glasses, plates, giftware, bowls, decanters, and other glassware. These beautiful items make excellent weddings gifts, anniversary gifts, or any special occasion.
Free Delivery on all merchandise.
Satisfaction Guaranteed on all items sold.



---
This site was created and is maintained by Delta Imex Inc.